Help Centre - Frequently Asked Questions
Using the Birth/Marriage/Death records - UPDATED
Searching the Birth, Marriage and Death records is a good place to start your family history. On our main page for searching these records you'll see some helpful information on what those records contain.
The Birth, Marriage and Death records are indexed, and we've also improved the search format to make it easier for you to find your relations.
As well as using the full forename and surname when searching for a relation in these records, you can also tick the box and we'll look for variants of those names for you. This can be helpful if a name has been mis-transcribed or you are unsure of the spelling. You can use the optional keywords box to add extra information for us to search from. You might want to add a place. If you are searching for a marriage you may want to add the surname for the spouse.
Any matches will be shown in the reults list. We will show you matches with our parish records as well as the England and Wales BMD index. The Parish collection includes baptisms, marriages and deaths. We will show you the closes match first and then any close matches after that. We will show you all the details as they appear in the index. You can use the details from the England and Wales BMD registration index to go to the Genreral Register Office to order a copy of the certificate. Any births registered after September 1911 also include the mothers maiden name.
If you do want to see a copy of the index page you can do that by clicking on the link on the right hand side of the page. It's always a good idea to check the index to make sure the transcription is correct.
As with all our records, you can attach a copy of the record to your tree too.
If you want to see a specific collection you can select it from the column on the left hand side of the page.
New Scottish Records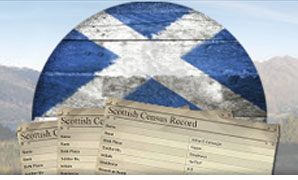 Do you have Scottish ancestors?
Perhaps you do and you just didn't know! Search our brand new Scottish census records today and discover if you have Scottish roots.