Help Centre - Frequently Asked Questions
Where are my Hot Matches?
Hot Matches randomly takes 50 names from your tree, excluding common names such as Smith and Jones, and matches them with names on other members' trees. We also match the year and place of birth. You can then contact the member to see if you might possibly be related.
Super Hot Matches are a way of providing you with closer matches for names in your tree. Super Hot Matches match relations in other members' trees whose name, year of birth and parents match relations in your tree, providing a stronger match than normal hot matches. Occasionally you will find that there are no Super Hot Matches when you know there should be. It is simply because they haven't been picked up by our system. However, you will probably find that the Super Hot Match will be picked up in the future.
We have recently updated the way we search for hot matches. We have changed the logic so that they are more accurate. This may well mean that you don't as many Hot Matches as you'd expect. We are simply trying to send you the most accurate ones.
New Scottish Records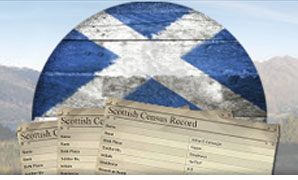 Do you have Scottish ancestors?
Perhaps you do and you just didn't know! Search our brand new Scottish census records today and discover if you have Scottish roots.