Help Centre - Frequently Asked Questions
Why can't I see all of my shared trees on my dashboard?
If you can't view all your contacts on your dashboard, or click to scroll through the page numbers at the bottom of the dashboard, it's likely that your compatibility view is switched on. You'll need to turn this off to view your dashboard completely. On your Internet explorer toolbar, please go to 'tools' and then please ensure that compatibility view and compatibility view settings are both unticked, you should then be able to see the whole of your dashboard. For Internet Explorer 8 when you open your internet browser on an internet page you will see at the top of the page, File, Edit, View, Favourites and Tools - please click on 'Tools' and you will then see compatibility view.
New Scottish Records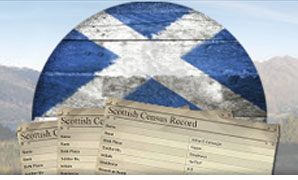 Do you have Scottish ancestors?
Perhaps you do and you just didn't know! Search our brand new Scottish census records today and discover if you have Scottish roots.