Help Centre - Frequently Asked Questions
Why has my renewal payment failed?
We take our members security very seriously, so we don't store your card details on our own site. This information is securely stored by our payment provider. This means we can't tell you why the payment wasn't authorised – you'll need to check this directly with your bank or credit card issuer.
If you'd like to renew using a different card here's how to do it:
• Select the option to renew your subscription on your Genes Reunited homepage by clicking on 'subscribe'.
• Choose the subscription package that you'd like.
• Click on the green box titled 'Subscribe'. This is to the right of the payment options list.
• If you are a Platinum subscriber you'll see the Additional Features page where you can add other records to your package. Standard subscribers won't see this page.
• This will take you to the payment page. Please ignore the box at the top prompting you to enter your password.
• Go down to the next section and enter the new card details.
This will then be the card we'll use for future payments.
Gift subscriptions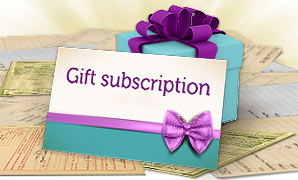 Do you know someone interested in discovering their family history?
You can now buy a gift subscription to Genes Reunited so they can research their family tree.