April 2013 - Guest Blog
Welcome to the new Genes Reunited blog!
We regularly add blogs covering a variety of topics. You can add your own comments at the bottom.
The Genes Reunited Team will be writing blogs and keeping you up to date with changes happening on the site.
In the future we hope to have guest bloggers that will be able to give you tips and advice as to how to trace your family history.
The blogs will have various privacy settings, so that you can choose who you share your blog with.
New Military Records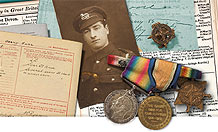 Was your ancestor a war hero?
View thousands of brand new military records, including Chelsea Pensioner records, Military Nurses, Prisoners of war and much more.
If you're a regular user of Genes Reunited, you may already have investigated our Keepsafe feature, which allows you to upload treasured family photographs and documents. It's a great way to ensure your digital legacy – a carefully curated and preserved archive that you can share with your family. But what about all those old photos that you keep meaning to scan in, but just haven't had the chance? Photos, like any archive material, can degrade over the years – have you checked on those shoeboxes and old albums recently?