March 2012 - Guest Blog
Welcome to the new Genes Reunited blog!
We regularly add blogs covering a variety of topics. You can add your own comments at the bottom.
The Genes Reunited Team will be writing blogs and keeping you up to date with changes happening on the site.
In the future we hope to have guest bloggers that will be able to give you tips and advice as to how to trace your family history.
The blogs will have various privacy settings, so that you can choose who you share your blog with.
New Military Records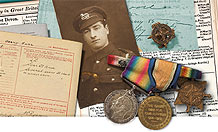 Was your ancestor a war hero?
View thousands of brand new military records, including Chelsea Pensioner records, Military Nurses, Prisoners of war and much more.
Last week, I was delighted to discover that I was listed amongst the seventy or so nominees for 'Genealogy Rock Stars' on John D. Reid's American "Anglo-Celtic Connections" website. Other British nominees included Else Churchill, Audrey Collins and Chris Paton. I don't think any of us could ever be genuinely described as "rock stars", but then what is a rock star supposed to be like? I had lunch in the Cavendish Hotel recently with a very famous rock star, who has hired me to trace his family tree, and far from throwing plates about and eating people's pets, he behaved exactly like a very keen, very knowledgeable family historian!
I have been enjoying trying out the newly indexed newspapers on Genes Reunited. Knowing from long experience what a very long, eye-straining and hit-and-miss affair newspaper searching is, it's extraordinary to be able to find material so easily.