Find Living Relatives
Welcome to the Genes Reunited community boards!
The Genes Reunited community is made up of millions of people with similar interests. Discover your family history and make life long friends along the way.
You will find a close knit but welcoming group of keen genealogists all prepared to offer advice and help to new members.
And it's not all serious business. The boards are often a place to relax and be entertained by all kinds of subjects.
The Genes community will go out of their way to help you, so don't be shy about asking for help.
Quick Search
Single word search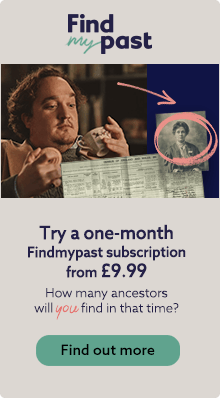 Icons
New posts
No new posts
Thread closed
Stickied, new posts
Stickied, no new posts
Anna Pinnock (Pennock) 1959
Profile
Posted by
Options
Post Date

Eugenie
Report
21 Nov 2011 10:11

Hello,

I am trying to find a date of birth and marriages for Anna Pinnock born to parents

Ronald W Pinnock & Edna W Pinnock (nee Goodberry)

Registration documents show
Anna C Pennock
Birth (father Pennock mother Goodberry) Anna C Pennock, Kingston 1959. (Index miss-spelling?).

Any help greatly appreciated


Flick
Report
21 Nov 2011 10:33

Are you related to the lady?

For exact DOB, you will have to purchase the birth cert

KathleenBell
Report
21 Nov 2011 10:51

Have sent a pm with a possible marriage.

Kath. x

Flick
Report
21 Nov 2011 10:58

I hope the enquiry is genuine........................!

KathleenBell
Report
21 Nov 2011 11:34

Flick,

I can see where you are coming from.......however if we are going to question every request on this board then I don 't see the point of having a "Living Relatives" board.

I haven't sent any information that isn't open for all to see if they pay a subscription to one of the Genealogy sites on their BMD indexes.

Kath. x

Eugenie
Report
21 Nov 2011 12:02

Thank you very much Kath for your info, much appreciated.

Flick,
In answer to your questions
Am I related to the lady- NO
Is my request genuine-Depends on your point of view.This is a forum I could give you any reason for my request and it is a judgement call if people want to help.


I understand what you are saying and am in my profession registered under the DPA, but supporting what Kath has said sometimes you have to have a little faith,

I am in fact trying to reunite some war medals with the rightful descendents, which I consider to be VERY genuine.

http://www.genesreunited.co.uk/boards.page/board/ancestors/pinnock/thread/1266957

Flick
Report
21 Nov 2011 15:24

Eugenie............

You could easily have mentioned the reason..

Your previous post has replies which you have not acknowledged.

And one post per topic is the GR rule.

I have no idea what the DPA is....................

Kath...........

Find Living Relatives can function even if people query the reasons for requests.

My concern, shared by many others on here, is that info is not passed to people who may wish to misuse it.

And there have been a number of instances of such a scenario on these boards in recent months.


Flick
Report
21 Nov 2011 15:34

I can't see any death records on Ancestry for Ronald or Edna, although there is what may possibly be a second marriage for Ronald

KINGSMILL
Report
22 Nov 2011 04:17

NEXT OF KIN
Ronald is still alive according to the Director's register .............( 3 marriages )

Last known address sent <<<<<<<<<<<

PS what about the situation that Ronald had sold his dad's medals !!!


KINGSMILL
Report
22 Nov 2011 04:46

Where did you see the birth of ANNA C
as she shows in the OVERSEAS births born in KINGSTON Jamaica
but no mention of the mother's maiden name ??

:-S

KINGSTON in England is where Edna was born
I can see NO children from this marriage

Eugenie
Report
22 Nov 2011 09:06

Thanks so much everyone, It appears Ronald married three times,
I have the names of all three. So far I have only found the one child-
Anna Pinnock by his first wife Edna.
A step- Pinnock descendent who has been helping me is waiting for certs to confirm the above.

Information received from the GR community has been invaluable and it does seem as if Ronald may still be alive, which would be fantastic. I have been given a possible address for him and will be following this up.

FLOWERPOT2- The medals are of no monetary value, just standard WWII issue but hopefully to the family will be priceless.

I will not be marking this as answered just yet until they are returned...and besides, I may need more help :-D

KINGSMILL
Report
22 Nov 2011 09:14

Anna Pinnock by his first wife Edna. <<<<<&lt there were no children

PLEASE read the thread
as I mentioned Anna was born in JAMAICA & IS NOT THEIR CHILD


The name of the person living with him for the address I sent
is not the same name as his third wife ;-)

SpanishEyes
Report
22 Nov 2011 09:22

Euginie,

I did add a reply on your other site and am delighted to learn that you have possibly found the family.
As someone who has many generations who were in the Army and Navy, and a son keeping the tradition going I know how thrilled I would be if this ever happened to me.
Co incidentally I lived not far from the road you mentioned.

Bridget in Spain

Researching:
Wrenn, Ford, and many others!

KINGSMILL
Report
22 Nov 2011 09:24

I hope Eugenie is not spending time chasing the ANNA route :-S

Eugenie
Report
22 Nov 2011 09:42

Flowerpot2-

Thanks, easy to be thrown a lifeline and get misled.

I was given info
Anna C Pennock
Birth (father Pennock mother Goodberry) Anna C Pennock, Kingston 1959. (Index miss-spelling?).

Seeing as Frederick did marry a Goodberry(awaiting certs to confirm this) and definitely has links to Kingston, Surrey UK. I jumped to the conclusion that Pinnock/Pennock was a typo.
Just seemed a massive co-incidence.

Anyway, hoping Ronald is still alive and well, so he is my current quest.

Eugenie
Report
22 Nov 2011 11:01

I am now totally confused!

I had been seeking Ronald Pinnock as being the son of Frederick from the following information.

Marriage of Frederick A Pinnock to Grace Giles-Southwark 1d 50 June 1928
Birth (Father Pinnock, mother Giles) Ronald W Pinnock.

Further details obtained regarding the marriages of Ronald W Pinnock were obtained in an effort to trace him.

With help from many on GR I have just contacted and spoken to Ronald Pinnock who has confirmed his parents were William James Pinnock & Fanny Giles and the family did originate from Southwark S.London but had E.London links (where the medals were sent to)

Ronald was a lovely man to talk to and keen to talk about family history but had no knowledge of a Frederick.

So it now looks as if the marriage records found for Ronald W Pinnock to Edna Goodberry, Gwendoline Miles and his third wife (name withheld as still living) were a complete goosechase.

I'm not sure where to go from here...back to square one


:-(

KINGSMILL
Report
22 Nov 2011 11:28

The odds of 2 PINNOCK/GILES MARRIAGES & both in Southwark

Looks like NO children then.

Death Record
Name Frederick Arnold Pinnock
Year of Registration 1985
Month of Registration January
Registration District Cambridge
Registration County Cambridgeshire
Date of Birth 21 July 1904
Volume Number 9
Volume Page 1001

Death Record
Name Grace Gladys Pinnock
Year of Registration 1991
Month of Registration February
Registration District Cambridge
Registration County Cambridgeshire
Date of Birth 05 January 1905
Volume Number 9
Volume Page 1022





KINGSMILL
Report
22 Nov 2011 11:45

HIS PARENTS
Dec 1897
Allen Eliza Camberwell 1d 1518
Pinnock Frederick Horace Camberwell 1d 1518

You could look for Frederick's siblings

Eugenie
Report
22 Nov 2011 12:04

Yep, guess that is next :-S

I have also found www.pinnockhq.net who have a wealth of Pinnock info.

May have to put it on the back burner for a while if nothing else comes to light, so time consuming!

Thanks everyone for your help.

Eugenie
Report
24 Nov 2011 13:52

I have previously been given 1911 Census details of Pinnock in the E11 postcode of London. It now appears as if the postcode may have been E4.

Does anyone have the time or resources to look up the records for
27 Lansdown Road , London, E4 ?

Thanks in advance.