Hobbies and Crafts
Welcome to the Genes Reunited community boards!
The Genes Reunited community is made up of millions of people with similar interests. Discover your family history and make life long friends along the way.
You will find a close knit but welcoming group of keen genealogists all prepared to offer advice and help to new members.
And it's not all serious business. The boards are often a place to relax and be entertained by all kinds of subjects.
The Genes community will go out of their way to help you, so don't be shy about asking for help.
Quick Search
Single word search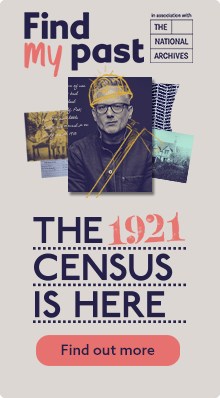 Icons
New posts
No new posts
Thread closed
Stickied, new posts
Stickied, no new posts
Genes Book Club - Elizabeth is Missing
Profile
Posted by
Options
Post Date

GenesBookClub
Report
15 Dec 2014 15:03

Hi everyone,

To those of you who were selected to receive a free copy of Elizabeth is Missing, we hope you enjoy reading it and would love to hear what you think.

Happy reading!

Book Club


Researching:
Genes Book Club in partnership with Penguin

Patricia
Report
20 Dec 2014 21:08

I have been checking announcements every day for the December book and haven't seen it. Please where should I be looking? Previous books have been on announcements.
Pat

+++DetEcTive+++
Report
26 Dec 2014 11:37

Strange is wasn't on Announcements Patricia - they slipped up there! It was originally pinned to the top of this board but has now been allowed to slip down

http://www.genesreunited.co.uk/boards/board/hobbies_crafts/thread/1347297

You may have missed out this time as mine came before Christmas - you could still try in case they have any copies left.

Researching:
Dormant member as from 20 Sep 2019 . Click on my board name to send a message

+++DetEcTive+++
Report
28 Dec 2014 17:54

This is a bitter-sweet story

Maud doesn't know what has happened to her friend Elizabeth. As far as she is concerned, she is missing. Unfortunately no one else will take her seriously.

Fighting through the fog of her dementia, 82 year old Maud sets out to discover what had happened to her dear friend despite the exasperation of her own daughter Helen and the irritation of Elizabeths son Peter. 

Along the way we gain an insight into how  dementia effects a persons ability to think clearly, the inability to remember words, what she was told 5 minutes ago, what she had intended to do....or what she'd been told not to do!  

Like many elderly people, the past is clearer than the present. The parallel story line is about the unexplained disappearance of Sukie, Maud's older sister back in 1947. When recounting the story, we realise that what happened to the young Maud effects the elderly Maud's obsessions and behaviour.

Any reader who has cared for or known a loved one with dementia may find this book upsetting as we witness the progression of Maud's disease. It should also teach us to listen carefully to the unconnected ramblings. Somewhere amongst them is a grain of truth. 


Researching:
Dormant member as from 20 Sep 2019 . Click on my board name to send a message

Winifred
Report
30 Dec 2014 11:06

Never received mine :( :-\

Whizz
Report
30 Dec 2014 18:14

Still waiting for mine but I remain patient and optimistic as the books always arrive eventually. :-)

AnninGlos
Report
30 Dec 2014 18:53

Have received my copy, much quicker then the last one.

Researching:
Photo Helebore 2021 Researching Somerset, Dorset, Hampshire, Derbyshire, Staffs, Devon, Glamorganshire. Ingram, Masters, Tamblyn, Knight, Warner, Bate, Allen, Riggs, Dominey, Duffin

Whizz
Report
31 Dec 2014 10:37

And as if by magic it has arrived this morning. :-D

GenesBookClub
Report
31 Dec 2014 11:13

Hi everyone,

Please send a message if you're still waiting for your copy. Delivery has been slow due to the Christmas post.

Thanks,

Book Club

Researching:
Genes Book Club in partnership with Penguin

AnninGlos
Report
11 Jan 2015 16:21

Elizabeth is missing by Emma Healey
Maud has dementia. She seems to be in the fairly early stages because she still lives alone. She knows her memory is bad but struggles to retain a normal life, not seeing why she shouldn't go shopping for yet more tins of peaches that she doesn't need.

She has a note she has written to herself that her friend Elizabeth has not been in touch and she has not seen her. She searches for her at her house, even letting herself in.

The story does dodge around a bit in time and I found that a bit confusing. But this is quite an involved novel for a debut novel and it is written with a deal of insight into dementia.

Not really my sort of book I'm afraid. Well written and the author obviously has a good knowledge about dementia. But I found that storyline very depressing I couldn't see the entertainment value in it at all. I suppose some people might find it humorous but to me it was more like mocking the afflicted. It was obvious that Elizabeth was still around somewhere so the revelation that she was in hospital was not surprising. No sorry I didn't enjoy the book at all.


Researching:
Photo Helebore 2021 Researching Somerset, Dorset, Hampshire, Derbyshire, Staffs, Devon, Glamorganshire. Ingram, Masters, Tamblyn, Knight, Warner, Bate, Allen, Riggs, Dominey, Duffin

TeresainWirral
Report
16 Jan 2015 10:40

Just finished the book, thank you for selecting me to review it. Not sure enjoy is the right word due to the subject matter, but I found the way dementia is portrayed interesting, the feeling at times of being thoroughly confused and having to re-read chunks....an option Maud doesn't have, overlaid with the mystery of Sukeys disappearance, all the clues being there, just not realising what is connected and what isn't.

Jan
Report
16 Jan 2015 21:05

I was really pleased to receive a copy of this book as I have read great reviews in the press about it. For a new author I thought that it was extremely well written. Amusing in parts, very sad in others.
I will look forward to reading other works by Emma Healey. :-)

Unknown
Report
17 Jan 2015 13:34

As the review said on the front of the book, it stirs and shakes you. Definitely disturbing, as I can see bits of myself appearing already! The author obviously has had a lot of experience of someone with dementia, and she carries you along with her on the journey to solve the mystery, albeit not the one about the missing Elizabeth. Very good read!

Whizz
Report
18 Jan 2015 11:32

Unless someone has dementia and/or Alzheimer's AND recovers from it (unlikely) we can never truly know what goes on in the head of a sufferer. But I'm willing to bet that this writer allows us to come pretty close.
I think this is a brave novel. I think the subject matter lays it open to possibly adverse criticism. It's an emotive subject and for those people who are maybe close to the situation in the book this story may hurt. But for those who have no such experience this book may educate and enlighten and as such, then, it must be a good thing.
It's hard to say if I enjoyed it or not. It wasn't a fun read by any means but a good read is not always defined by the fun element. It was an emotive read, I felt for Maud and Helen. I found it interesting that the person most laid back about her grandmother's mental state was the granddaughter who tried to treat Maud as normally as possible.
I'm glad I read this book, it was well written, human natures well observed and the underlying mystery of Sukey running through it possibly saved it from being 'just' a study in dementia. Thank Genes Reunited and Penguin books for another opportunity to read a book I might not otherwise have chosen.

Lorraine
Report
4 Feb 2015 21:15

Not a bad book considering the subject but i did find that it skipped backward & forward a lot & didnt have me hooked enough to read it until i fell asleep which i do most nights, however being a care worker i did think the author described Elizabeth's behaviour quite well & showed how people with early signs of dementia can behave without realising & how upsetting & frustrating it can be for others involved in their lives. Not bad for a 1st book.

Winifred
Report
21 Feb 2015 13:49

Just received Elizabeth is Missing it came in same post as next book . So I am going to be a wee bit busy trying to catch up xxx

+++DetEcTive+++
Report
21 Feb 2015 20:24

There was an item on the TV news this morning publicising 'Alzheimer's Buddies'. They interviewed with an elderly lady sufferer. She said she finds notes all around her home with her age written on it. Just like Maud in the book, she every time she read one, she was surprised.

Researching:
Dormant member as from 20 Sep 2019 . Click on my board name to send a message

Winifred
Report
6 Mar 2015 19:32

I found this book fascinating. The author has done a lot of research and I could hardly believe it was a first book. Lots of detail about dementia sufferers and their carers. I found that the numerous time shifts was a bit confusing at times but then it reflected the jumble in Mauds mind so appropriate to be written in this style I suppose.

It was good to have the mystery of Sukey's disappearance woven into it. Therefore it wasn't just about Maud and her dementia which would have made it boring I suppose. I wanted to complete this book mainly to find out the answer to the reason why Elizabethh was missing and what happened to Sukey's.

This was a quick read and I found myself skimming at times which is something I don't normally do. I may read further books by this author if the synopsis tempts me.